Se nos fue nuestro querido padre
Hoy compartimos este día con sus hermanas y su hermano, sus sobrinos, sus amigos, sus primos y colegas y con nuestros amigos.
¡Que falta nos hará!
Pero Alberto, nuestro padre, nos deja a todos una gran fortuna.
Si se pudiera monetizar la alegría que repartió sin condiciones en sus 89 años, seriamos mas ricos que Bill Gates.
Si su bondad se pudiera convertir en monedas de oro, necesitariamos camiones.
Si su paciencia fueran acciones en Wall Street se cotizarian mas que Google.
Heredamos tambien un latifundio de creatividad.
Desde aquel accidente de ruta que muy joven lo puso a milimetros de la muerte veia por un solo ojo, pero su visión no tenia horizontes.
Su imaginación nos transportaba mas alla de las estrellas.
Su ética fue inmejorable.
Su compasión y amor al projimo fueron extraordinarias.
Su sentido de justicia le permitió tener una conciencia en completa paz.
Vivió sin envidia, sin rencor, sin odio.
Demostró valentia y amor a la patria en toda ocación propicia.
Murió como vivio, alegre y sin quejas hasta su ultimo día.
Si logramos seguir su ejemplo viviremos como él, alegres el resto de nuestras vidas y nos enfrentaremos al misterio de la muerte con la paz que otorga una conciencia inmaculada.
Mi hermana, mis hermanos y yo les agradecemos infinitamente por acompañarnos en este día y les pedimos un minuto de silencio en meditación o plegaria.
Si existe la vida eterna y el amor divino, hoy papá cabalga en su percheron con el corazón lleno de alegría hacia mamá, su querida Dorita, que lo espera de brazos abiertos con croissants calientes.
Música

Eulogy for Dad
Our dear father left us
We share this day with his sisters and his brother, his nephews, his friends, cousins and colleagues and with our friends.
We will miss him!
But Alberto, our father, leaves us a great fortune.
If you could monetize the joy he spread without any conditions during his 89 years, we would be richer than Bill Gates.
If his kindness could be turned into gold coins, we would need trucks.
If his patience became shares in Wall Street they would be worth more than Google.
We also inherited a vast a expanse of creativity.
Since that car accident when he was young that brought him an inch from death he saw only through one eye but his vision had no horizons.
His imagination took us beyond the stars.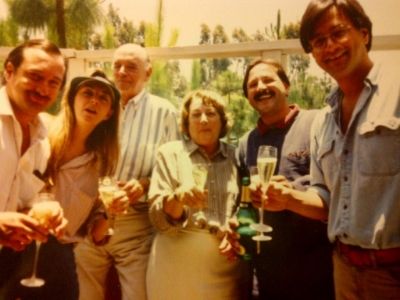 His ethics were pure.
His compassion and love for others were extraordinary.
His sense of justice allowed him to have peace of mind.
He lived without jealousy, without regrets and without hate.
When it made a difference he demonstrated his bravery and his patriotism.
He died as he lived, happy and without complaints until his last day.
If we follow his example we will live like him, happy the rest of our lives, and we will face the mystery of death with the peace of mind fruit of a pure conscience.
My sister, my brothers and I thank you infinitely for accompanying us this day and we just ask for one minute of silence for meditation and prayer.
…
If eternal life and heavenly love exist, today dad rides his stallion with a heart full of joy towards mom, his loved Dorita, who waits for him with warm croissants.
(music)

Eulogy for Dad